Bridal Trends 2022 - 2023 | Future and current wedding dress trends 2022 Real brides in wedding dresses of different styles by Eva Landel design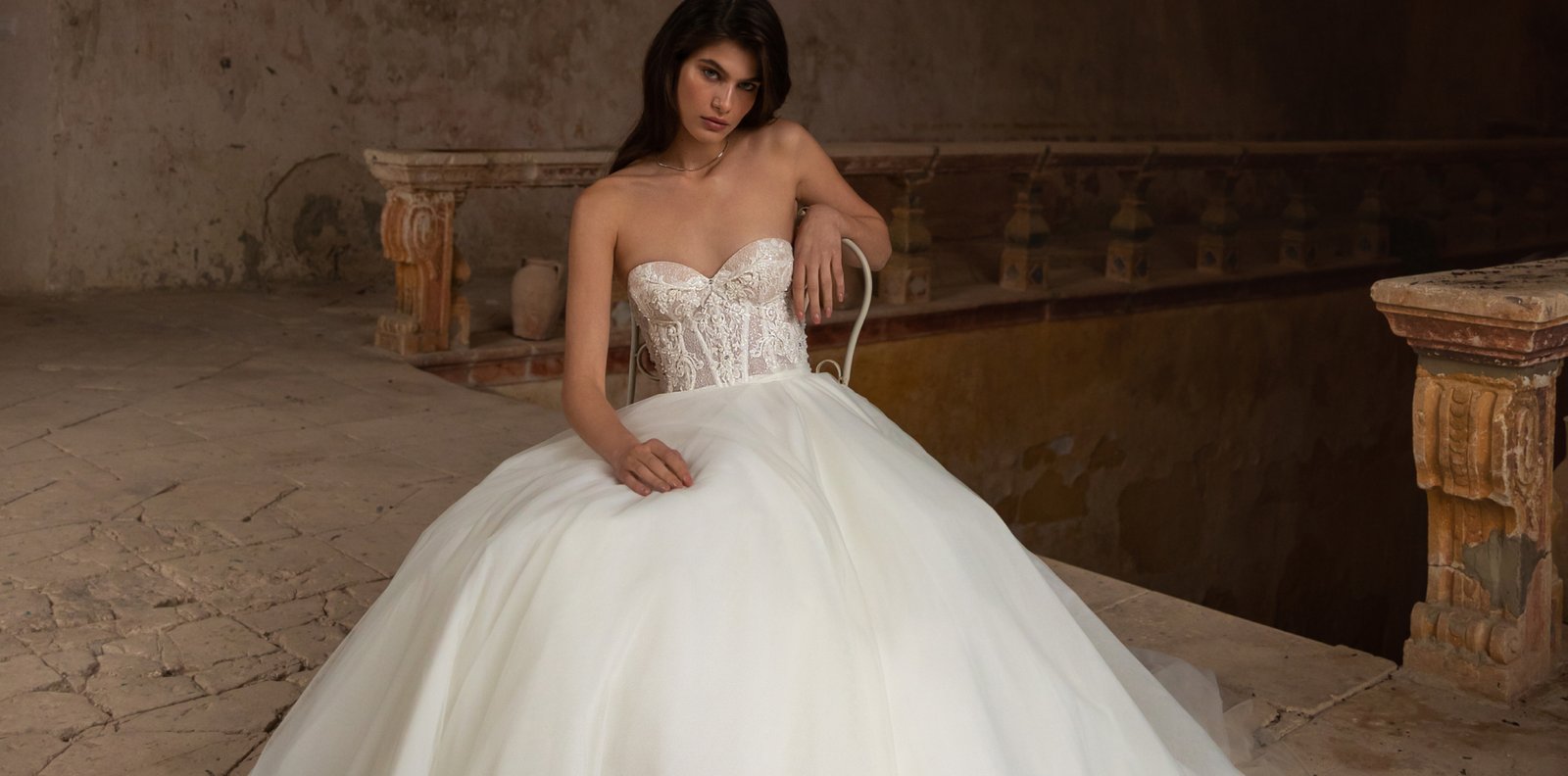 Bridal Trends 2022 - 2023 | Future and current wedding dress trends 2022 Real brides in wedding dresses of different styles by Eva Landel design

​

​

Wedding dress trends: What to expect in 2023?

After years of following strict wedding trends and stressing out during the pandemic, if your ceremony is even happening now, the 2022 wedding season is blooming with fabulous ideas on how to highlight your individuality! Bridal fashion focuses on expressing yourself no matter your style and taste. Wedding dress trends 2022 give us the simple but tasteful classic and encourage every bride to go full-in with colors, shapes, and style. Based on this year, we expect to see even more eccentric and chick ideas for 2023 and some great vintage come-backs ( yes, the 90s are now vintage, too, according to GenZ).

The top latest trends in bridal wear

Hoping you'll get inspired with the ultimate guide to wedding dress trends featuring 16 breathtaking ideas on how to be gorgeous while celebrating your love!

1. The Slit

The thigh-high slit has a jaw-dropping effect on every red-carpet event. But who said you should not bring all that energy to your wedding day? The high slits now made their way to bridal fashion, allowing you to be a femme fatale showing off your curves. And check this out - finally, everyone would be able to see those mind-blowing stilettos!

2. Florals

The spring wedding is screaming: "Let's add some florals!" Yet the 2023 execution of floral motifs dress is absolutely gorgeous. Flower-detailed dresses, either in pastel tones or bright colors, were rocking the catwalks. Many models come in a 3D floral design that gives you the enchanting look of a wooden fairy. Go floral is one of the best solutions for a countryside wedding in nature. Keep the hair and makeup natural to pull off feminine florals statement.

3. Corset dream

Latest fashion trends brought corsets to the party and even casual wear. Even though corsetry was always a part of bridal attire, they got a new elevated non-boudoir feel. Corset bodices are combined with lace, tulle, embroidery, beading, and pearls for that regal look in the latest trends in bridal wear. A corset is a great way to feel elegant and sexy, as it gives you a cinched waist and hourglass shape. Whether you go for a minimal design to keep it more timeless or a romantic dream style, the corset should be a star-center of the attire.

4. Open Backs

This season we will go dramatic with the bridal fashion. Want a dress that won't only make every guest gasp when you enter but make everyones' head spin when you're leaving? The designers are bringing the sexy back in 2023. Literally! A backless dress will make you feel confident and sexy on your wedding day. Go as low as you feel comfortable. There are no limits. And if you wish to look like a Vogue model, a new trending wedding dress with an open back is perfect for an editorial photoshoot!

5. The Ball Gowns are back

Did you miss massive ball gowns that make your princess of Genovia fantasy come to life? They're back, baby! After lockdowns, brides set the current wedding dress trends to a dramatic, regal, and mind-blowing route. Ball romantic gowns look outstanding on the photoshoots and just fabulous on the aisle. Whether you go white or pastel shades, choose simple silhouettes for the top part and overwhelming tulle skirts for the more chick look.

6. Statement sleeves

Oh, the impact Bringerton has on us ladies! The Regency-era inspired many spring and summer collections and made its way to the spotlight in the bridal trends. Larger-than-life sleeves are eye-catching detail that elevates a traditional dress. If you fancy romantic gowns and want to feel like the Duke of Hastings is waiting for you down the aisle, the voluminous sleeves are a perfect add-on. Designers offer many alternatives, from massive puff sleeves to transparent bishops with beading or pearl details and bell or balloon sleeves.

7. Choose a neckline to impress

The wedding gown trends 2022 brought back some vintage necklines. For traditional brides who don't risk micro fashion trends, choosing one of those necklines will make a dress timeless and spot-on from the fashion blog.

Square Necklines

The 90s nostalgia train brought back an angled square neckline that highlights the shoulders, chest, and neck. Whether you're a Regency-era fan or still obsessed with 90s silhouettes, this trend is for you. Flattering to any body type, the square neckline is the easiest trend to adjust to any wedding style. Choose the ruffled and tulle skirts for a romantic vibe or slit and cut-outs for dramatic effect.

Mock Necks

The Grace Kelly appreciation wedding dresses trends 2022 brought back the modest mock neckline. The regal princess look is still around in 2023. Designers pair high collars with microtrends to add a fresh feel to the timeless piece. The mock neckline dress has a 100% chance of becoming a family heirloom. Whether you go with romantic ruffles or planning on revealing the legs or a back, keep accessories simple for the chick look.

Asymmetrical Necklines

Another hidden gem of wedding dress trends for modest brides is the asymmetrical cut. If you feel like channeling a Greek Goddess and still being a fashion diva, that is the look to go. Such bodice style makes the body look snatched and balanced out, making the dress flattering to any body type.

Straight Necklines

Yet other 90s come back to bridal fashion. Why do we love the straight neckline to give it another go? The answer is simple: it works with any aesthetic and style! A strapless straight neckline ball gown would give you a princess-like feel. The heavy satin skirt will make you a classic bride. The cutouts and slim fit would show the sexy side of you.

8. Bow details

Designers in 2022 made us all bow to the elegant bow-detailed dresses. This new trend wedding dress will still be with us in upcoming years. No one can get sick of such small yet graceful detail that elevates minimal design dress to an editorial-worthy level. For the glamorous princess look, choose the design with larger-than-life bows that grows into a long trunk. For a more sophisticated feel, designers have plenty of options with little hidden bow details or small ones around your waist. By adding colorful or black bows, the dress would be spot on with the main trends in bridal fashion.

9. Pops of Color

The GenZ said "no" to the plain white dresses and went full-in with colors to show individual style. Many world-famous designers made a wedding dress for 2022 in pastel tones. However, in 2023 we expect the bloom of colorful options. The bright dress itself is a statement against traditional weddings. Yet combined with micro trends like riffles or florals, it would be a true fashionista moment.

10. Bridal Separates

We see a strong urban influence in bridal fashion from the 2022 to 2023 seasons. The co-ord pieces were a popular choice for the registry only. And now you can see a modern bride rocking separates even at the ceremony. The practical side of co-ord is versatility as the pieces can be used as going-out wear later in your life. Take advantage of trendy bridal separates to have more than one outfit for your special day. Switch maxi satin or tulle skirt to a statement feathery mini to dance the night away with your guests.

11. Party Dresses

Choose a wedding party dress only in two cases: you want to show off a pair of killer designer heels or express your crazy personality! The step away from traditional gowns has been made in 2022. Party mini dresses will stay to slay another day in 2023. Bridal party attire brings us joy with a fun sparkle or boudoir feel. If you're not bold enough to pull off the party dress for the whole day, it could be a smart choice for the rehearsal dinner or as a second outfit option. So pop the bottle of champagne in your wedding party dress to get the perfect Pinterest-like shot!

12. Bridal power suit

Do you want a secret to feeling like a badass at your wedding? Pull out that snatched bridal suit or tuxedo on! Even if trousers were on the bridal fashion scene for a while, designers added lavishing bows, tulle elements, excessive vails, and accessories to create a real-life super-woman out of a modern bride. The perks of going with a tuxedo are it's reusable in the future and will remind you about the special day whenever you put on the blazer or trousers back on.

13. Impressive statement veils

Bridal fashion houses went big to give a twist to such a traditional element of wedding couture as the veil. In 2023 we will see more statement veils with 3D designs, sparkle, flower prints, etc. The fashion is stepping away from the customs making the veil a masterpiece that expresses the bride's personality.

14. Capes

The contemporary approach of the modern-day veils is impressive capes. Whether made out of the same materials or transparent, a cape is an elegant and modest element that adds a regal and fairytale feels to the whole ceremony. Keep the accessories simple to avoid making the outfit busy.

15. Sustainability trend

Many brands are now featuring sustainable collections using high-quality materials and lawful production. Sustainable dresses come in simple silhouettes with elegant finishing touches. Perfect for summer or destination weddings, dresses are easy to transport due to the absence of excessive details. The key idea behind sustainable fashion is being able to reuse the gown after.

Show your personality with a wedding look in 2023

As you can see, wedding dress style 2022 inspired designers to go more grand and brave in their work. Era after a pandemic brought made brides abandon traditional boring pieces. In 2023 we are all about that jazz! Embrace your individuality and show off what makes you special. It doesn't matter if you're planning a mini wedding or grand ceremony, bridal trends in 2023 that fit any type of celebration for you to shine and express your love!